For a better experience on Cayman Airport,
Update Your Browser.
CIAA announces Groundbreaking for Expansion and Renaming of Brac Airport
14 July 2012
The Cayman Islands Airports Authority (CIAA), and the Ministry of Tourism, Finance and Development is pleased to announce that the groundbreaking for the expanded terminal facilities and renaming of the Cayman Brac Airport was held on Saturday, 14th July at the Gerrard-Smith International Airport in West End. The Premier, Honourable W. McKeeva Bush, OBE, JP, presented the keynote address following remarks by the Deputy Premier, Honourable Juliana O'Connor-Conolly, JP.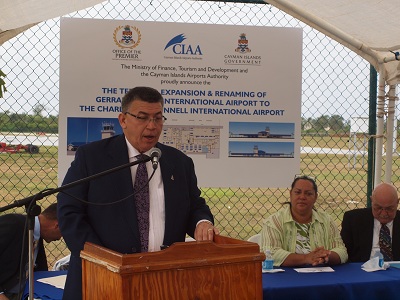 Hon McKeeva Bush announces expansion and renaming of Brac Airport July 14 2012
Download PDF