At Owen Roberts International Airport (ORIA)
Taxis are available from the arrival greeting area on a dispatch basis. The Airport Ground Transport Attendant dispatches taxis on 'first-come/first-served' basis.
The Ministry of District Administration, Tourism and Transport introduced a new national taxi fare schedule. The new schedule went into effect on Friday 2 August 2019. Fares in the new schedule have increased slightly; however, the new schedule moves the average party size from three to four, providing for families to ride a taxi at the same rate. The first two pieces of luggage are now free and after-hour fares are now scheduled, resulting in the removal of the previous 25 percent surcharge. For example, under the old fare schedule, the rate for a taxi from Grand Cayman Marriott Beach Resort to Owen Roberts International Airport was $22.50 USD. Under the new schedule, the rate is now $25 USD. 
In an effort to regulate taxi fares and to encourage transparency the first digital taxi fare calculator, CI:GO, was introduced. This free mobile app is a simple way for residents and visitors to quote their journey in advance. CI:GO allows users to drop a pin or enter the pickup and drop-off location of an intended ride, then specify the number of passengers and how many pieces of luggage. Based on the information provided, the app will calculate the fare in both KYD and USD dollars. Options include getting a breakdown of the fare, editing the trip, splitting the fare or getting directions.
CI:GO can be downloaded from the App Store and Google Play. For more information on the app and new taxi fare schedule please visit www.cigo.ky.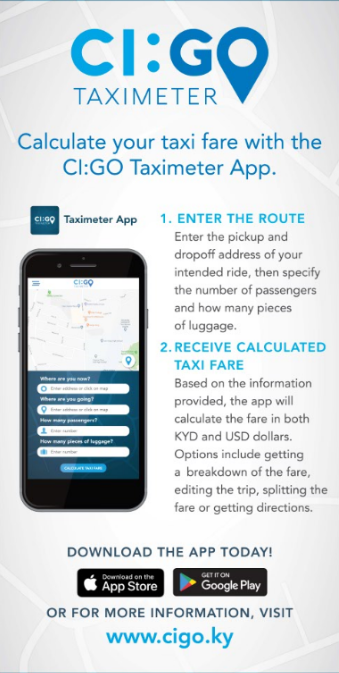 At Charles Kirkconnell International Airport (CKIA)
Taxis are available at the Charles Kirkconnell International Airport upon request.