CIAA signs with DSS Contractors for enabling works at Brac Airport
2 October 2012
The Cayman Islands Airports Authority (CIAA) announced in March 2012 that the terminal facilities at the Charles Kirkconnell International Airport (formerly Gerrard-Smith International Airport) would undergo an expansion commencing later this year to accommodate nonstop outgoing international flights between Cayman Brac, the USA and elsewhere. A groundbreaking ceremony for the expansion was held in July and the Premier, Honourable McKeeva Bush, OBE, JP, during his keynote address, also announced the renaming of the terminal in honour of the late Captain Charles Leonard Kirkconnell, OBE, JP.
As part of the preparations for the expansion, on Friday, 21st September, the CIAA signed a contract with DSS Contractors, a Brac construction firm, to carry out the enabling works which are necessary to facilitate the planned improvements to the terminal, subject to requisite planning approvals.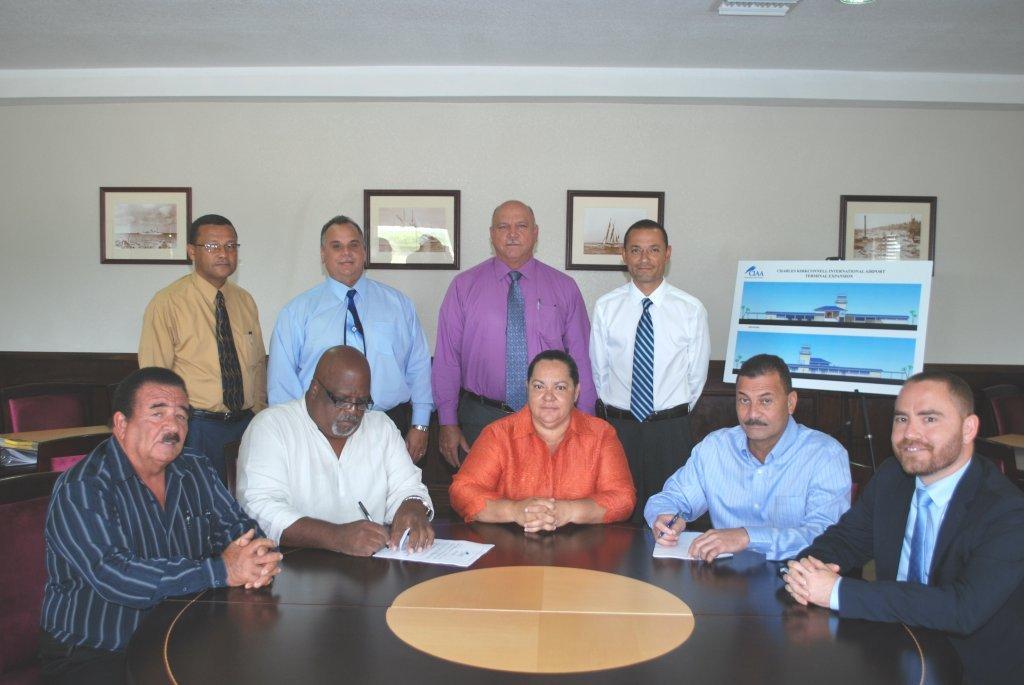 Sitting, L-R: Larry Bryan, CIAA's Director; Denver Solomon, owner of DSS Contractors; Hon Juliana O'Connor-Connolly, Deputy Premier and Minister responsible for DAWL&A; Jeremy Jackson, CIAA's CEO; Stran Bodden, Chief Officer, Ministry of Tourism, Finance and Development.
Standing, L-R: Rohendis Britton, CIAA's Senior Manager Airport Operations, (CKIA); Mark Tibbetts, Deputy District Commissioner; Ernie Scott, District Commissioner: Jonathon Jackson, Deputy Chief Officer, Ministry of DAWL&A.
Download PDF